History & Core Value
Danterry Group has always committed to develop brand image in the recent years, visions to be the pioneer of the industry and become the leading door manufacture with MIT's quality assurance. The company name is the combination of chairman Daniel Liu and his U.S. partner Terry Chao. In 1986, they introduced American standard and combine high quality door & hardware solution. Later in 1992, Danterry started manufacturing fire-rating door and expanded product line into deluxe entrance door and balanced door in 2011 and 2013. With unique design of patented concealed hinge, Danterry's deluxe entrance door won 2015 Taiwan Excellence Award. Danterry has participated in many local and global projects and accumulated excellent reputation in the architecture industry.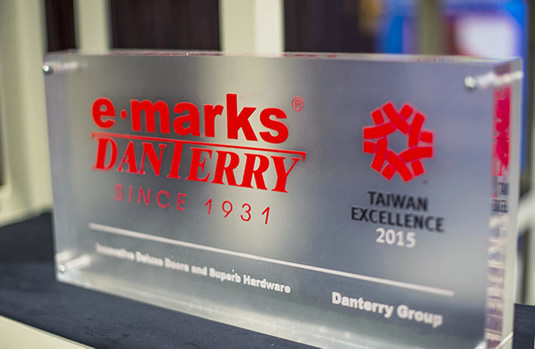 DANTERRY'S

CORE VALUE
PROFESSIONALISM
INVENTION
RELIABILITY
TEAMWORK
The very first company Dong-Ya hardware was established.
Introduced total solution of American standard doors & hardware system to local market.
Joined U.S Door and Hardware Institute and developed hardware configuration system.
Factory built in Yilan, Taiwan to fabricate hollow metal doors.
Supplied fire-rated door and hardware to Taipei 101 Financial Center as a general contractor, and later received Excellent Contractor Award. Obtained UL certificate for hollow metal door.
Expanded into China market.
Obtained CNS certificate in Taiwan for fire-rated doors, and ISO certificate for the factory.
The first balanced door from Danterry was installed at Pangu Plaza, Beijing City, China.
Added residential door to the product portfolio.
Deluxe entrance door with patent concealed hinge won the 2015 Taiwan Excellence Award.
Passed air leakage performance test and reached 2 million times cycling test for Danterry balanced door.
Finished installation of total 37 single and pair balanced doors for T.S. Landmark Plaza in Tainan,Taiwan.